Vermont's Rabbit Hill Inn receives top ranking in TRAVEL+LEISURE WORLD'S BEST AWARDS 2019
Rated #1 Best Resort Hotel in the Northeast, #3 TOP Resort Hotel in the USA, and #27 of the TOP 100 Hotels in the World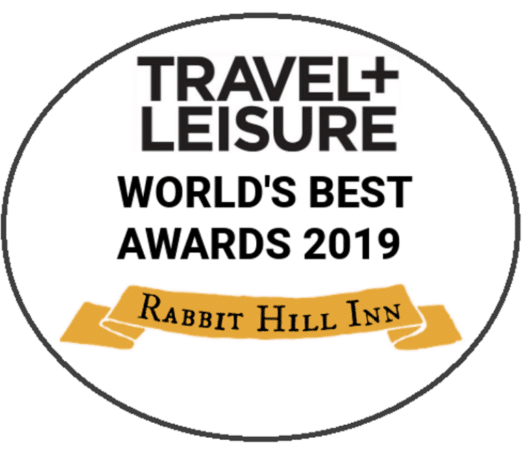 As long term advocates for and members of the hospitality industry, it is difficult for us to state our preference for Bed and Breakfasts, Country Inns and Boutique Hotels. Today, however, we cannot help but express our unparalleled admiration and lifelong predilection for Rabbit Hill Inn! We are no strangers to the Northeast Kingdom of Vermont. In fact, Bill spent a number of years cavorting with notable artists, writers, and sheep farmers around Greensboro (now of Hill Farmstead Brewery fame!). Nowadays, we visit the Kingdom for Rabbit Hill Inn and often wish those trips could last a lifetime.
Travel+Leisure recently revealed the winners of the 24th Annual World's Best Awards including the Top 100 Hotels in the World. It was no surprise to us that Rabbit Hill Inn exceeded previous recognition from the organization, ranking as the #1 Top Resort Hotel in the Northeast, #3 Top Resort Hotel in the USA, and #27 of Top 100 Hotels in the World. Travel+Leisure World's Best Awards are considered one of the most significant accolades in travel. To be included on this list is a world-renowned mark of excellence for travel and hospitality companies globally. The award honors the finest travel experiences in the world selected by Travel+Leisure's global readership of discerning travelers.
Rabbit Hill Inn is a 19-room full-service Vermont Inn offering luxe accommodations, high-end amenities, and a AAA Four Diamond-rated restaurant. The Inn sits on 15 acres of trails and bucolic countryside with views of the White Mountains of New Hampshire and a diversity of activities available to guests year-round, including outdoor pursuits, local brewery tours, shopping, or rusticating in the Inn's well appointed rooms or within the Inn's common areas and grounds.
We could all learn a thing or a thousand from the Innkeepers and staff at the Inn, so whether you are an aspiring Innkeeper or an inspired Inn-goer, do yourself a favor and book a trip to experience the spectacular hospitality, personal service and attention to detail offered by Rabbit Hill Inn and its dedicated staff.